What comes to your mind when you are asked about a go-to, affordable, ready-to-eat snack option?
I think people all around the world must have potato chips on their list.
At least that's the answer I received from the Indians around me (I am also one of the 😉).
Is it Potato Chips?
Or
Some kind of namkeen that doesn't fill you up, leaving space for the next meal?
Because a Gujarati Man figured this out 40 years ago.
And today, his company named "Balaji Wafers" is a household name in India.
He understood the assignment and worked on delivering a range of delicious and affordable snacks to Indian consumers.
Today, we will discuss the Balaji Wafers success story in this blog.
Table of Contents
Overview of Balaji Wafers in the Indian Snack Market
Chandubhai Virani, a teenage boy from Gujarat, founded "Balaji Wafers" with his two brothers in Rajkot, Gujarat, India.
They started from 0 and reached 3300 crores in less than 40 years; which made Balaji Wafers secure the 2nd position in the potato wafers market, just behind Lays. 
Isn't it iconic?
They reached a position next to an international potato chips brand whose name is synonymous with its product even in India.
They were able to do all this because they catered according to the needs of the market.
We can also say that their marketing strategy was on point.
And their main focus was selling quality products, delivery, services, and pricing.
"Profit doesn't give you business," says Chandubhai."Business gives you profit." The next generation at Balaji, he says proudly, understands this philosophy.
History and Background of Balaji Wafers
With humble beginnings in 1972, the company has grown exponentially to become a dominant player in the Indian snack food industry due to its high-quality products and innovative approach.
But it all started back in the canteen of a cinema hall.
A filmy story ahead that's based on true events.
When Late Popat Ramjibhai Virani handed ₹20,000 to three of his sons, one of whom was Chandubhai, who wanted to start his own venture.
On the contrary, his elder brothers bought farming equipment and fertilizer with money they made from selling their land but eventually ended up getting scammed.
Having no other choice, 15-year-old Chandubhai and his two brothers left their homes to work at Astron Cinema in Rajkot.
In addition to serving at the canteen, he also stuck posters, did door keeping, and ushered for a monthly salary of just ₹90.
Later, the entire family relocated to Rajkot in 1982.
Meanwhile, the family made masala sandwiches for the cafeteria of this theater.
Despite their popularity, they were also very perishable, as they caught fungus very quickly.
And this is when Chandubhai had the idea of switching to wafers over sandwiches.
The issue with the wafers was that the supplier would always reach late or with damaged wafers.
So after being fed up with that and other common issues in a retail business, Virani decided to do it by himself.
After canteen work, he started his venture with 10,000 rupees.
He set up a small shed in his verandah and started making chips there. Finally, this step worked in his favor.
The popularity of his wafers made the theater owner partner with Chandubhai and soon he was running three canteens along with distributing wafers to 25-30 more merchants.
It was in 1984 that they settled with the name Balaji, inspired from the Hanuman Temple right beside the canteen.
But this was just the start.
Marketing and Distribution of Balaji Wafers
After expanding in Rajkot in 1989, he arranged a bank loan of about 50 lakhs and opened Gujarat's biggest potato wafer plant.
Back then, it was pretty risky because rich folks and investors weren't willing to invest in you. So, you had to hit up the bank, request a loan, and if things didn't work out, you were on your own to deal with the loss.
Balaji Wafers Pvt Ltd. was then established in 1992 by the 3 Virani brothers.
They competed with big names at that time— Uncle Chips, Simba, Pepsi Co, and Binnies.
Many of their competitors were still making handmade chips but Balaji had the advantage of technology all the way in the past.
Today, Balaji is the largest regional potato wafers and snacks brand in the Western and Central Indian states.
Challenges Faced
Importance of innovation and differentiation in a crowded market
The company had to constantly innovate and differentiate itself from established players such as Lays and Kurkure.
They managed to outperform from the start by crossing all the hurdles wisely-
Hurdle 1
Chandubhai encountered a major challenge in meeting the demand for his wafers while he was still making them by hand.
Consistency was difficult to achieve, and this led him to consider introducing machinery to the process. However, when he explored the option of purchasing a standard potato stripping and cutting machine, he found it to be prohibitively expensive.
Ever resourceful, Chandubhai came up with a creative solution: he decided to break down the machine into multiple parts and assemble them himself. With just 5,000 rupees, he was able to acquire the necessary parts and put them together to create his own potato peeling and chopping machine, which allowed him to produce the consistent, high-quality wafers that would become the foundation of the Balaji brand.
Hurdle 2
Pepsico, the parent company of Lays, sued Balaji Wafers because they claimed that Balaji copied their design.
But Chandubhai didn't back down and argued that the only reason Lays was suing them was because they were growing at an incredible rate. Unfortunately, the high court ruled in favor of Lays, and Balaji had to change their design in order to sell their chips.
But that didn't stop Chandubhai and his team.
In 2018, they revamped their entire packaging, when many people thought that their brand would suffer. However, Chandubhai believed in his product and knew that people didn't care about the package logo as much as they cared about the name.
And boy, was he right!
While Lays' market share decreased, Balaji Wafers has been steadily increasing at 20 to 25% every year. It just goes to show that a strong product and brand can withstand any challenge.
Growth Strategy
The company was dubbed the "Sultan of Wafers" by Mithai & Namkeem Times.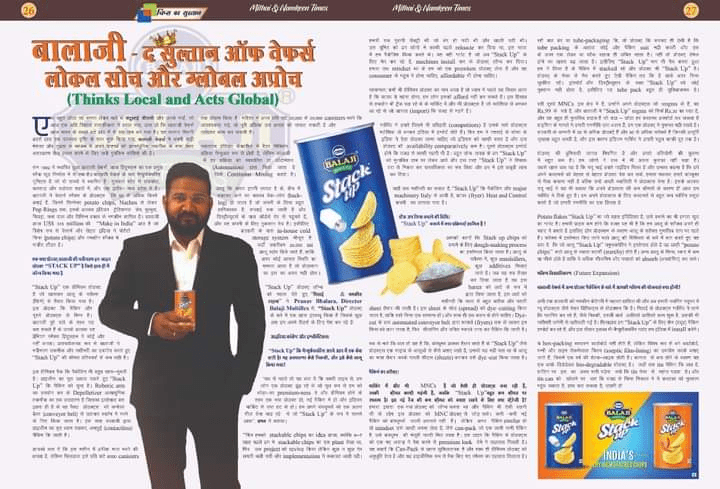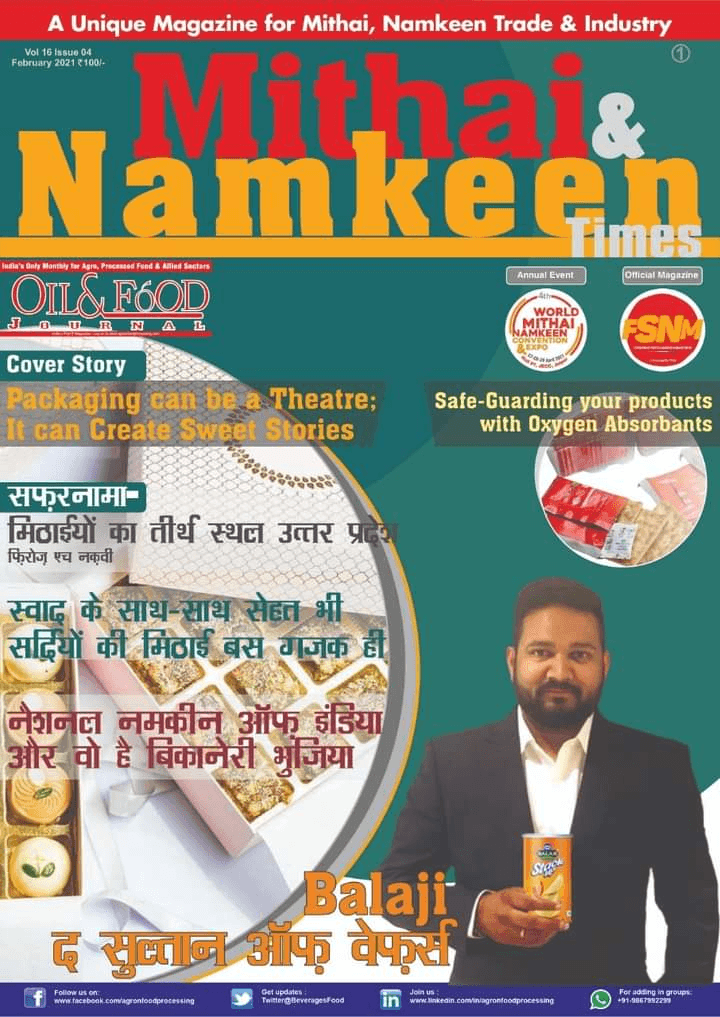 It has increased its market share of local potato and vegetable chips from 9.5% in 2008 to 13.7% in 2012.
With a 71% market share, Balaji also rules the Western market.
It holds a 90% share in Gujarat, its home state.
Balaji's growth strategy is based on 4 key areas which include:
1. Extend into new markets
In 2014, Balaji Wafers became a leading snacks player in the Gujarat market.
But they didn't stop there and have expanded their footprint beyond the western region of India to other parts of the country.
They have set up manufacturing units in different states to cater to local tastes and preferences.
Presently, the company has factories in 4 locations across 2 states in India.
Rajkot
Valsad
Vadodara in Gujarat
Indore in Madhya Pradesh.
With a total processing capacity to manufacture 1000 quintals of potato wafers, along with 5000 quintals of savories per day.
In addition, the company has also ventured into international markets such as the USA, UK, UAE, and Australia.
2. Product diversification and innovation
Balaji's success is in its ability to cater to variations within the small market.
To differentiate themselves from their competitors, Balaji Wafers continuously introduces new and innovative products in their portfolio.
They have 3 main product categories.
Western Snacks – Consisting of 12 Products
Namkeen – Consisting of 23 Products
Wafers – Consisting of 12 Products
They are also known for their unique flavor offerings according to the local taste preference of consumers.
For example: In Maharashtra, they have a chat masala-based snack, and In Rajasthan, they have spicier snacks.
Currently, Balaji has over 50 different flavors.
The company also introduced healthier snacking options like baked wafers and roasted namkeen to cater to health-conscious consumers.
Also, they recently entered the noodles market with their very own house-made noodles "Gippi".
3. Investment in technology
During the initial stage of the wafer making, Chandubhai did everything on his own from frying wafers to packaging them with the help of his family.
And he saw the pitfalls of doing things by hand which include inconsistency in the product and shorter shelf life.
The lesson he learnt very early in his life was the indulgence of 'automation' and 'machinery' to eliminate human error.
He says," Machines will be costly once, but it won't stop working in 24 hours and that's their motto of investing in expensive machinery to build a chain of loyal customers".
Today, the company regularly imports from the world's top food processing suppliers, staying true to their philosophy of investing in the best automation deployed in the food industry.
This helped them maintain a competitive edge in the market by increasing production efficiency and reducing costs.
4. Focus on customer satisfaction
All of the above points were performed keeping in mind this main thing-Customer is the king.
They strived to serve good quality at reasonable prices to satisfy their consumers whereas other brands were failing.
They believe that by serving customers good and value-based products they can satisfy their customers and that they will always choose Balaji Wafers over other brands.
The brand put a lot of effort into ensuring customer satisfaction by maintaining consistent taste across all its products which helped them build a strong brand image.
The Director at Balaji Wafers, Shyam Virani says, "You won't find another brand of packaged snacks that delivers the quality, quantity, and price we do."
Key Takeaways
Balaji Wafers' case study offers valuable lessons for businesses looking to grow and expand.
Some key takeaways include:
Importance of innovating to differentiate in the market- Companies need to constantly update with their customer's needs and preferences in order to stay competitive.
They should include unique products to stand out in a crowded market.
Strategic partnerships and collaborations is important for growth- Collaborating with other businesses and forming strategic partnerships can help them expand their customer base along with revenue.
Understanding your target audience- By prioritizing customer satisfaction and building brand loyalty, one can manage to establish a strong foothold in their industry.
In conclusion, the success story of Balaji Wafers is a testament to the power of perseverance, innovation, and dedication to quality.
From humble beginnings as a small family-owned business to becoming a major player in the Indian snack market, the company's journey has been marked by numerous challenges and setbacks, but also by a willingness to adapt and embrace change.
The case study of Balaji Wafers serves as an inspiration for aspiring entrepreneurs, demonstrating that with hard work and a commitment to excellence, even the most daunting obstacles can be overcome.