Hola! ¿Cómo estás hoy? Me encanta hablar en español.
Oh, I am sorry.
I just thought to flex my newly learnt Spanish on Duolingo 😎
And, why shouldn't I? I never thought learning a language would get so easy, or even possible.
So, I thought, why not share it with the whole class, on how Duolingo has altered the course of language learning for the entire world.
Table of Contents
What is Duolingo?
Let's start from the beginning. Because, not all of you would be familiar with Duolingo as well as I am.
So, what is Duolingo?
Duolingo is an Ed-tech organization specializing in developing language learning applications, courses and certifications.
Currently, it provides 106 courses in 41 languages; such as, Spanish in English, English in Hindi, Portuguese in Spanish, Japanese in English, and more.
Founders, Luis Von Ahn and Severin Hacker, a professor-student pair from Carnegie Mellon University launched Duolingo in 2012 with an aim to make learning fun with personalized experiences, at essentially zero or nominal costs.
Adding a feather to the cap, the company got listed on NASDAQ in 2021, under the name of DUOL.
Did you know? Luis Von Ahn was the one to introduce us to reCAPTCHA, which was later sold to Google. 
The Previous Scenario of Language Learning
Let me ask a simple question.
How many languages are you familiar with?
Most of you will say 2 or 3, based on your mother tongue and the language taught in your school.
But, how else would you learn a language?
This question was not so easy to answer back in the 90's and 2000's as it is now.
The dependency eventually landed on institutions and universities teaching different languages spread across various semesters, and students having to make do with outdated curriculums.
These and various factors limited the number of people interested in learning languages.
What has Duolingo changed in language learning?
Duolingo is the by-product of the problems its founders faced while making a living in a new country.
Luis, who hailed from Guatemala, realized how difficult and expensive it was for his community to learn English. While Hacker, born in Switzerland, believed in the power of free education.
Therefore, the first step they took was to make language learning accessible for everyone, free of cost, regardless of the course or its time frame.
Did you know? The Duolingo employees and volunteers have created and designed all the Duolingo courses. Many of these volunteers are the app users as well.  
What did Duolingo do right?
Duolingo, having 500m registered users till date, has played its cards amazingly well so far.
Not only have they managed to take over the world with the unique concept of language learning at their fingertips, but they have also ensured to leave a lasting impression on its audience.
Here are a few things they did right (and right, they did) to reach where they are today.
1. Free Learning
In a world where good education is a privilege, free learning is indeed a final flourish to empower the deprived.
Duolingo hit that nerve and opened access to hundreds of languages, along with Duolingo English tests and certifications at zero or nominal costs.
While various language teaching institutes asked for steep charges, Duolingo allowed everyone and anyone to sign up for its courses irrespective of their socio-economic status.
2. The Culture Appropriation
With free learning, came the widespread acceptance of the application and the approach.
Hacker believed that education has the power to change the world.
Duolingo not only allowed free learning, but also cast aside the boundaries of age, nationality, social status, culture and other stereotypes ruling the world. They have kept their products open for everyone, requiring just an email address to register.
Thus, the pursuit of knowledge made all curious users sign up for the app and continue using it over the years.
To this date, Duolingo has never been biased towards any particular culture, which made its simple attempt effective and adored.
3. Exceptional Product Roadmap
As a brand in the EdTech sector, Duolingo required to be ahead of its time and competitors in product development.
They focused on beta testing, strong feedback mechanisms, and learning cycles built with the help of volunteers and employees combined.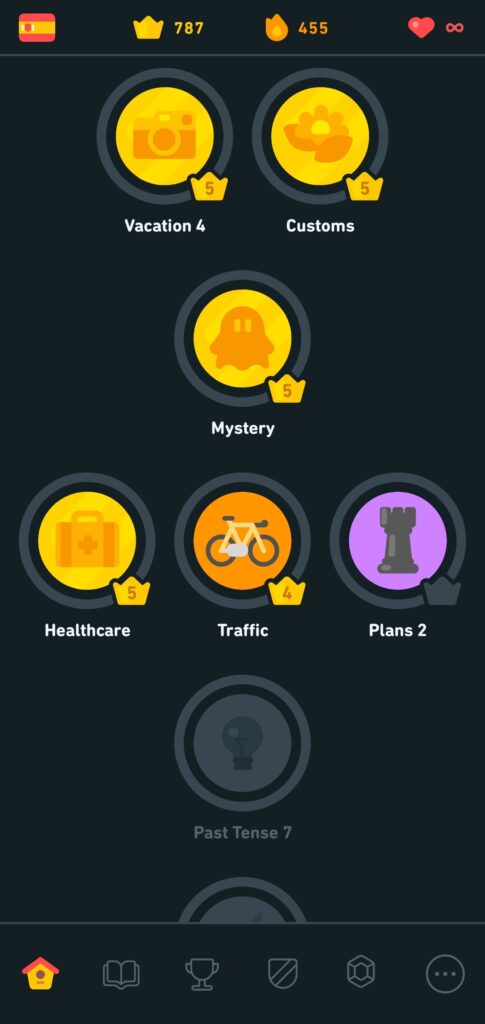 Interactive UI, UX, easy-to-use features for all ages coupled with artificial intelligence made the application a fan favorite in no time.
4. Inclusivity
While the world is fighting for equality, the folks at Duolingo ensured that all their courses were community and gender-inclusive.
Snippets featuring the LGBTQIA+ community/couples and exercises around gender equality while learning a language are also playing a role in spreading awareness of the causes.
5. Focus on user retention
No matter what Duo's marketing strategy has been, they were apparent with their focus on user retention.
They wanted users to practice on the app for long periods of time, helping them go for other languages in due course.
Humans are a creature of habits.
So, Duolingo put this fact to use and enabled its users to form habits with continuous learning, friendly reminders and timely rewards; thus helping them reach their learning goals.
I have a streak of 456 days, meaning I have been using and practicing on the app for 456 days without a break.
Did you know: The highest streak (continuous learning) on Duolingo has been 2000 days. 
6. Gamification
Duolingo hit the bull's eye when they introduced gamification and competition in the app.
This nudged the users to do better every day and go beyond the conventional ways of language learning.
Duolingo, also takes help from its mascot, Duo, a green cartoon owl across the app to engage with the users.
Often, Duo, the owl has been a subject of internet memes (and that's how they used meme marketing 😁).  
7. Comprehensive Learning
When we talk about Duolingo as a whole, it is not limited to a language learning app.
It is extended to a comprehensive application for schools and universities
(Duolingo for Schools) who wish to include language learning or Duolingo English Tests in their curriculum; as well as that for corporates (Duolingo for Business) and families (Duolingo Family Plans).
Not to mention, solutions like Duolingo Math, Duolingo ABC (to help children read), Duolingo Events (host-led discussions/classes), Duolingo Stories (mini stories to expand language understanding) and Duolingo Podcast make it a platform of comprehensive learning.
And what's more, the company has made their website accessible in 24 languages.
All in all, Duolingo has gone across the board to make learning fun and free.
Did you know: Currently, over 3000 institutes have validated the Duolingo English Test. 
8. Endangered languages for community betterment
Duolingo teaches 38 languages, including 2 constructed languages (Klingon and High Valyrian).
So, if your crush is a Star Trek or Game of Thrones fan, you know where to go to impress them.
The courses also include endangered languages, such as Zulu, Xhosa, Maori, Haitian Creole and Austronesian Tagalog along with indigenous languages like Navajo and Hawaiian, to support the cause of protecting these languages and communities.
How are Duolingo's Competitors Doing?
While the app is not the only player in the EdTech sector focusing on language learning, it is definitely one of the fastest growing in the list.
Duolingo differentiates itself in terms of the experience it provides, cost involved and the approach it takes to learning.
Companies like Babbel, Lingvist, Busuu, Toucan, Rosetta Stone, Rype and Tandem have left a mark in the sector, but while some of them focus only on strengthening your speaking or conversational skills, Duolingo addresses all aspects of communication skills viz. Reading, listening, speaking, writing and understanding. 
In Conclusion
The app that was once funded by grants, has managed to become an organization valued at USD 4 billion.
Suffice to say, Duolingo has revolutionized language learning for kids, seniors and youth alike.
They dreamt of changing the world through free learning, which has now manifested in the form of an app we all have come to love.
The founders had a clear vision from the beginning of what they wished to build, and the experience they aimed to provide to the users.
Duolingo is proof that you do not need to charge loads of money to succeed or provide a good experience.
That being said, there's a lot more for them to do and grow into, and we can't wait to see what's in store for Duolingo ahead.