Are you aware of the term Search engine or Search Engine Optimization?
But, do you actually know the meaning of it and how does it really work?
Today, when search engines have become a part of not only our daily personal but also our professional lives.
Let's understand it like we are 5.
What is SEO?
It's Search Engine Optimization.
Let's comprehend by breaking the term because it's made up of two different words — Search Engine and Optimization.
Firstly, Search Engine.
A lil story to make the non-marketers understand better.
There's a retail shop near my house that sells a variety of products from different brands, making it easily accessible for people in the area.
You say it and they have it for sure.
That's like a Search Engine of our locality.
There is a collection of thousands of websites and millions of TB of data (products) on the World Wide Web which is the Internet.
And Search Engines were created, so we don't have to memorize the URLs of different websites to get our queries answered.
For example: Google, everybody knows him, the fuckboi of Search engines but in a parallel universe because it is used by mostly everyone.
Top three search engines around the world[1]
Google
Bing
Yahoo
It is that one software that works for people all around the world.
That's why we require Optimization.
Optimization means effectively using the resources for our advantage. (You can take lessons from your ex on this 🥲)
In search engines, optimizing your websites and webpages helps you make it search-friendly and rank higher than others
I hope you understand everything deeply because we are heading inside SEO to know how it reads and ranks our content.
How does SEO work?
Do you know that SEO has a pet spider that helps it in reading your content?
Yes, an educated spider.
The crawler spider that reads your content as soon as it gets published and saves it in the search engine's local server.
The indexer then categories the data into different indexes.
When you are new to a website, indexing must be requested, but with consistent content publishing, the search engine will recognize you and automatically index it.

Why do Startups need SEO?
Are you a startup owner?
Do you have a limited budget and resources to fulfill your startup's marketing needs?
If your answer is yes for both…
Then your solution is SEO.
68% of online experiences begin with an organic search[2]. 
Which means everyone heads to the search engines, mainly Google whenever they have a query regarding any topic.
And only 6% of those searches result in clicks to ads.
The other 94% goes to organic results (the unpaid, valuable content).
Benefits of SEO for Startups
SEO can help your startup become fine like wine over time.
Stats shows that SEO can help startups reduce the cost of customer acquisition by 87.41% on average compared to digital advertising[3]. 
And some other benefits include:
Cost effective method to drive traffic to your website.
Rank higher by optimizing your website and helping your prospects find you.
More attention and visibility so you are soon recognized by your company's name.
How to make full use of SEO for Startups?
Now you know what SEO practice is, you also have a need for it in your business because of the benefits but how can you squeeze out all the goodies from it?
At TCC, we prioritized SEO from day 1 and stayed consistent with our efforts.
Fast forward to 2 years, we have seen a number of results of our hard work along with some smart work.
Here, I am gonna share all the tips that can come handy if you are starting or stuck with an SEO strategy for your startup.
So let's start with the basics.
Types of SEO
Here are the types of SEO you should know and implement for your startup.
1. On-Page SEO
A bit complicated and an ongoing process which you can control.
By customizing your website's outlook, content and keyword density.
You can also optimize headlines, titles, meta descriptions, images and URLs to help search engines understand your website and its relevance to searcher's query.
2. Off-Page SEO
In this, you help your website rank without making any changes in it.
You promote it by mentioning it in different ways on social media and other websites.
You can also use content marketing like we at The Clueless Company wisely repurposes our blogs content into a blog post and share the link of the respective blog.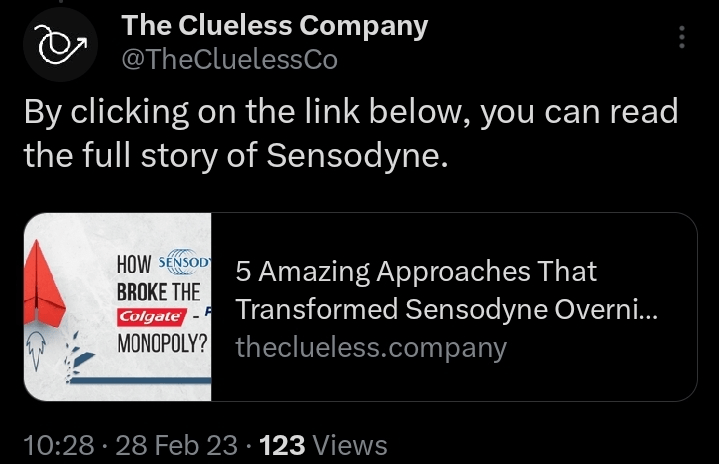 This type is helpful in building your website's reputation and EEAT (Experience, Expertise, Authoritativeness and Trustworthiness).
3. Technical SEO
The most crucial aspect of SEO. The above two types won't exist without this. It helps in improving crawling and indexing of the content.
It's usually the work of a developer.
As it focuses on improving user experience by loading websites faster, SEO friendly structure of the website, redirecting to web pages, making your website mobile-friendly.
4. Local SEO
It must be clear in the name, local.
Nearly 2 in 3 of smartphone users are more likely to purchase from companies whose websites customize information to their location[4].

And, 72% visits the store within 5 minutes[5].
We can optimize our website for this by including business's name, address and phone number on every page and create a Google Business Profile.
Now, I'm gonna share SEO best practices to help you create a personalized SEO strategy for your startup.
Will be using the word Google sometimes
Because,
But it sums up all the search engines ranking.
SEO for Startups: Best Practices
SEO is vital but also complicated when you are new to this, so gonna share some tips and tricks from our experience.
So that you don't end up scratching your head after every step.
1. Keywords Research
What are keywords?
Meaning from the perspective of your audience-
Keywords consist of words or phrases that your audience can search for while looking for content similar to your niche.
According to Google,
Keywords can be defined as the words and phrases that define your content.
For example, our audience can look up for keywords like SEO startup, SEO for SaaS startups to land on our blog. So, we'll be placing the same keywords in our content to rank on Google and other search engines.
Hoping that now you know the importance of keywords as well.
Let's move on to –
(A) How to use keywords accurately?
There's a right and a wrong way of doing everything.
And the correct way of using keywords in your content is :
Using relevant keywords
Placing the keywords in the right place
Check for the keyword density.
The appropriate keyword density is 1-2%[6].
(B) Tools useful for SEO and keyword research
I personally have used only 1 tool for keyword research till now but at TCC we have experience of different tools that I'll be discussing about today.
1. Google Keyword Planner
If you wanna rank on Google, ask from Google only.
Use this tool to find relevant keywords for your content.
2. Ubersuggest
This is a popular keyword research tool of Neil Patel, who is famous for SEO.
It's an accurate research tool, to get the correct volume of keywords for organic search.
(C) Tips to find the right keywords
Wrong keyword research can badly affect your On-page SEO and lower your page's ranking.
To avoid this follow these keyword research best practices.
You should have the knowledge of your business type, services or product offering and the location of the customers.
Brainstorm relevant keywords in an excel sheet.
Use Google keyword planner to refine your list and Ubersuggest to determine keyword volume.
For Startups, it's best to target low-search-volume keywords to increase your chances of ranking.
Make sure to check the monthly search volume (MSV) for your selected keywords.
Now, where are you going to use these keywords?
In your content.
Let's have a look at the weightage it holds for your SEO.
2. Importance of Content in SEO for Startups
"Content is king" is a common phrase in marketing, it is the same for SEO.
Even with 73% B2B and 70% B2C marketers prioritizing content marketing, your audience is hungry for the valuable information that only your content can fill up[7].
Remember these 2 points by heart.
(A) Plan and Publish
Don't go with the approach of publishing a content piece when you feel like and and be one's in a blue moon on your site.
Google asks for a strategy with a combination of consistency to break the lock of SEO.
(B) Optimize, Optimize, Optimize
Before, after, later and during the content publishing process.
Make it a habit, so that your content stays relevant even after years and years.
Like the evergreen content that never goes out of the first page of SEO.
Did I mention how you can measure and analyze your SEO efforts? Oh, I missed it. Here you go!
3. How to measure and analyze SEO for a startup?
It's quite simple if you ask me.
(A) Set goals and KPIs
Firstly you need to have a goal on the basis of which you'll measure the performance.
For example: New leads per quarter, 15% increase in CTR, and so forth.
(B) Measure your keywords rankings
Use tools like Google Search Console to monitor the ranking of your keywords.
Identify which keywords are driving the most traffic to your site and focus on optimizing those.
(C) Track your content strategy
You won't get your content planning right from day 1.
But by tracking which type of content is liked by your audience through Google analytics can help you move forward in the right direction.
4. What to avoid in your SEO strategy?
While there are many effective tactics you can use to improve your startup's SEO strategy, there are also common mistakes you should avoid. Like:
(A) Keyword stuffing
Don't use a keyword that doesn't fit in your content no matter how much importance it holds.
Google and other search engines penalize sites that engage in keyword stuffing.
(B) Duplicate content
It's so obvious that high-quality content needs to be your own and original.
Copying content from other sites can harm your SEO.
(C) Ignoring mobile optimization
Global website traffic in the first half of 2023 was primarily generated by mobile devices (excluding tablets), accounting for 58.33% of all traffic[8].
So, you cannot afford to miss this.
You can also check the wrongs along with the rights of SEO in our blog.
What SEO tasks can most startup founders do by themselves?
SEO can be overwhelming to startup owners, but there are several tasks that you can take in hand to improve your website's visibility and attract more organic traffic.
1. Keyword Research
Have shared the tools, experiment and you'll become a pro before you know it.
2. On-page Optimization
Non-technical part that doesn't require any exceptional knowledge but is an essential part of SEO.
3. Content Creation
A lot of founders start by sharing their own knowledge and build authority and tone before outsourcing.
4. Local SEO
By creating Google My Business listing and including local keywords.
5. Analytics
Again with usage of some tools, you can easily perform this.
Conclusion
SEO is vital for startups and even more to make it in use from day 1.
You won't know everything from that day but you will learn the magical powers and be the wizard of it sooner than you think.
So, knowing from the first day is not important but starting from day 1 can help you know and understand better with time.
When did you start with SEO for your startup?
Last but not least, TCC is delighted to assist you if you want to improve the SEO of your startup website.