Every year on January 16, India celebrates National Startup Day.
India now has over 72,000 startups, including 100+ unicorns.
But there are only a handful of bootstrapped startups that went on to become unicorn startups.
So, I decided to share the success story of a startup I admire, a bootstrapped one – Zerodha.
Let's get to know this startup that made our investing and trading journey smooth like butter (Amul one 😋).
Table of Contents
Before we move on to the story, check out these amazing startup stats for 2023.
About Zerodha Startup
I am pretty sure you must have heard this name a lot over the last 2-3 years.
And I can't believe I was just 10 when two brothers, Nithin Kamath and Nikhil Kamath, founded Zerodha in 2010.
Zerodha is a financial services company offering discount brokerage services to retail Indian investors and traders.
They offer investing and trading services in the stock market, currency and commodities markets, mutual funds, and bonds.
And you won't believe this, Zerodha is India's largest brokerage firm in terms of active customers.
Wow! A bootstrapped startup without spending a penny on advertising has over 1 crore customers with 62 lakh+ active customers.
So, how did this happen?
Well, let's get the ball rolling.
The Kamath Brothers
Nithin Kamath, the founder and CEO of Zerodha, started stock trading at the age of 17.
Having been introduced to the stock market by his friends, he started trading in penny stocks and made a good amount of money. But in the 2001-02 market crash, he lost it all.
This prompted Nithin to work in a call center at night, while he traded during the day.
Later, he joined Reliance Money as a sub-broker, and he made a lot of money by handling big client accounts.
Nikhil Kamath, co-founder and CTO of Zerodha, followed in his brother's footsteps.
Nikhil dropped out of school after the 10th standard to play chess. (Quite a bold decision!)
But at the age of 17, he started working full-time at a call center. He also started stock trading after following his brother and friends.
As Nikhil got more experienced in trading, he started managing the assets of his friends and colleagues. Later, he joined Way2Wealth as a sub-broker.
So, how did these two brothers stumble upon the idea of establishing Zerodha?
Let's find out.
How and When did Zerodha start?
In 2005, a foreign HNI was impressed with Nithin's trading portfolio. So, he gave Nithin a ₹25 lakh cheque to manage his Demat account.
Later, he left his call center job as he started handling more accounts.
But, there was a problem.
There was no single platform where Nithin could switch between different accounts seamlessly.
To tackle this situation, in 2006 he joined Reliance Money as a sub-broker. This allowed him to buy and sell stocks from a single platform.
But in all this, he realised one thing. There was a huge gap between the commissions charged by the brokers and the actual amount clients got after the transaction.
He also figured out why many young people are not interested in stock trading. The reason was simple – high brokerage charges and a complex trading process.
As Nithin had worked with many brokerage firms, he recognized the challenges faced by traders.
So, after trading for almost a decade, Nithin decided to become a broker. And not just an ordinary broker; he also decided to revolutionise the broking industry.
Then both the brothers quit their jobs and started building Zerodha. But the journey ahead was going to be tough.
Growth of Zerodha
The reason behind starting Zerodha was to empower traders by providing a simple-to-use and affordable trading platform.
They simply wanted to eliminate all the hurdles faced by the traders and make their trading experience a walk in the park.
And that's how they came up with the name Zerodha. 'Rodha' is a Sanskrit word for hurdle or barrier. Now, do I need to tell you what Zero means? 😁
When the two words are combined, it means "no hurdles" or "zero hurdles".
So, how did they remove the obstacles and went on to become the largest brokerage company in India?
Well, here's the story.
Just before Zerodha was founded, financial markets went through a crisis in 2008-09.
Nithin was looking for VC funding, but VCs were reluctant to fund an online brokerage startup after the market crash. Rather, they were not interested in investing money in any startup.
So, he decided to use his savings to get things moving. And most of the savings went into purchasing exchange refundable deposits and setting up an office space.
Everything was set, and now it was show time.
Zerodha's operations began on August 15, 2010. And this made them India's first discount brokerage firm.
They launched a user-friendly and easy-to-use trading platform using the latest technology.
On top of that, they only charged a flat fee of ₹20 on every trade, irrespective of its size, with zero brokerage fees and an annual maintenance fee of ₹300.
This disrupted the whole brokerage industry. Zerodha did what other traditional brokers couldn't do.
But they had to tackle some challenges.
One of the major issues was to onboard traders on Zerodha's platform.
Since they didn't get any VC funding and had fewer savings, doing a marketing campaign was out of the question.
So, they decided to do community outreach, and Nithin was already part of some online trading communities. This worked in their favour for distributing the early version of Zerodha.
And they didn't just stop at community building; they also did door-to-door marketing.
Both of these strategies helped them onboard their first 1,000 customers. (Yay!)
Zerodha did this without spending money on advertising, and they still don't spend money on it. (No kidding)
In the first year of their operations, they managed to open 3000 Demat accounts.
Now, you must be thinking, "Just 3000 accounts!"
Yeah. Look, serving in a market like India is not easy. People become suspicious if you do something different from everyone else.
And most traders were reluctant to use Zerodha's services as they did not offer any research services.
This was their second issue – less credibility.
Unlike full-service brokers, they didn't offer any stock buy or sell recommendations.
To overcome this, they launched Varsity, a collection of stock market lessons and terms.
Again, they used technology to simplify the stock investing and trading processes. And to retain the customers, they created a superior trading platform.
After resolving these issues, Zerodha had 17,500 clients investing and trading on Indian stock exchanges. But things were about to go upward.
In 2015, the founders decided to make the delivery of equity investments free of charge. From a fee of ₹20 per order to ZERO fee.
This resulted in the first wave of Zerodha's growth. In just 5 years, the customer base went from 30,000 accounts (2015) to 14 lakh accounts (2020).
When all this was happening, in 2019, Zerodha became the market leader by toppling ICICI Securities.
But this was just the tip of the iceberg.
In 2020, two things happened.
First, the Covid-19 lockdown fueled the interest of Indians towards stock investing and trading.
This surge in interest led to massive growth as many new customers opened Demat accounts through Zerodha.
As a result, their user base surpassed one crore, with over 62 lakh active customers placing millions of orders per day.
Second, after 10 years of operations, Zerodha became a profitable unicorn startup. One of the few profitable unicorns!
And this spectacular growth is also reflected in Zerodha's revenue and profits.
In FY22, the startup reported ₹4,964 crore in revenue and ₹2,094 crore in profits. And they achieved all this without VC funding and advertising.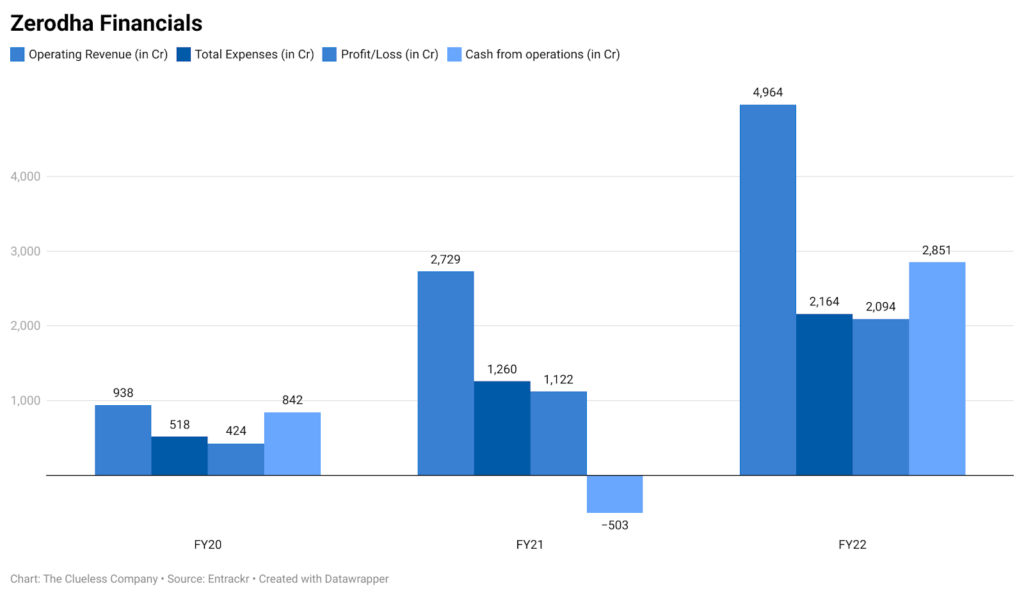 So, how did they achieve this?
What did Zerodha do special?
The Kamath brothers were well aware of the challenges faced by the traders. And they offered a simple solution by building Zerodha's online trading platform.
As I said earlier, the founders tried to remove obstacles like high brokerage fees, lack of transparency, and complex trading processes.
And traders were introduced to a smart trading platform at a low cost, which made their trading journey easier.
Also, Zerodha's business model was based on low margins and high volume. This model, coupled with zero brokerage, led to good revenue generation.
During this period, they also introduced a flat fee model by challenging the percentage brokerage fee model.
Now, what is the percentage brokerage fee model?
Let me explain this with an example.
Back in the day, traditional brokers would charge brokerage based on your trading value.
Let's say a broker charged 1% per trade.
So, if your traded value is ₹1,000, your brokerage fee would be ₹10.
Now, imagine your trade value is ₹1 lakh, so your brokerage fee would be ₹1,000.
But Zerodha played a masterstroke by charging only 20 rupees. This was possible because the trade size didn't affect the operational cost.
And they also showed all the charges transparently by adding a brokerage calculator to their website. This enabled traders and investors to know all the charges with a click.
By doing this, Zerodha earned a reputation among the trading community. And this helped them gain a market share of approximately 17%, closely followed by another discount broker, Upstox (14%).
Let me know if you want a case study on Upstox.
Now, let's talk about the challenges and competition faced by Zerodha.
Challenges and Competition
No doubt, Zerodha is a pioneer in the brokerage industry, but they also face a few challenges that they need to overcome.
Due to a huge number of transactions, the platform experiences technical glitches. This disrupts the trading and investing experience of the users.
Now, Zerodha doesn't have any offline branches as most of the operations are performed online.
So, if any customer faces any difficulty, they need to reach their online customer support team. And it is likely that the customer support team might fail to address the customer's concerns.
Even the founders admitted this by saying that their customer support is the weakest link of Zerodha. I am sure they will sort this out pretty soon.
And like most discount brokers, they don't provide any stock advisory services or market-related calls.
All of this may result in customer loss.
Now, let's look at Zerodha's competition.
Since the Covid-19 lockdown, the financial services industry has seen a tremendous boom. Now, more people are interested in investing and trading in stocks.
And Zerodha faces stiff competition from many traditional brokers as well as discount brokers.
The traditional brokers include big players like ICICI Direct, HDFC Securities, Motilal Oswal, and Sharekhan.
And the discount brokers include VC-backed Upstox, Groww, and Angel One. These discount brokers are gaining a strong foothold in the market.
But the only thing that differentiates Zerodha from other brokers is zero advertising and marketing.
They built a community that helped them acquire new customers through word-of-mouth marketing.
In which year Zerodha started?

Zerodha started on 15th of August in 2010.
What does Zerodha company do?

Zerodha is a financial services company based in India that provides a range of investment services, including retail and institutional broking, equity investments, and trading in currencies and commodities.
As a member of NSE, BSE, and MCX, Zerodha offers a reliable and trustworthy platform for investors to manage their portfolios. Most notably, Zerodha is known for its unique offering of brokerage-free equity investments.
 Is Zerodha startup profitable?
Yes, Zerodha's FY22 net profit was Rs 2,094 crore, up 87% YoY from Rs 1,122 crore in FY21. Operating revenue surged 82% to Rs 4,963 crore YoY. Notably, Zerodha has not raised any external funding to date.
What is the meaning of Zerodha?

Zerodha, a combination of "Zero" and the Sanskrit word "Rodha," meaning barrier, reflects the company's dedication to providing affordable brokerage services to Indian investors while removing obstacles and barriers.
Takeaway
Both the founders, Nithin and Nikhil, used their experience and knowledge to build a product that solved the problems faced by traders.
And solving a burning problem is the main aspect of building a startup.
Serving in a price-sensitive market like India is not easy. They identified it early on and took some bold decisions that eventually worked in Zerodha's favour.
Comment down your views on Zerodha's success.
With that, it's time to say goodbye!