"It wasn't a threat to RIM's core business. It wasn't secure. It had rapid battery drain and a lousy [digital] keyboard."
Yes, this is the description of an iPhone by Mr. Lazaridis's top lieutenant, Larry Conlee.
Ok, too much context is needed. Let me help you.
Let's start from the beginning.
On January 9, 2007, Steve Jobs announced the first ever iPhone at Macworld San Francisco. Mike Lazaridis, the founder of Research In Motion (RIM)—the parent company of BlackBerry, was home on his treadmill when he saw the televised report about Apple Inc.'s newest product.
We all know BlackBerry couldn't survive the iPhone.
But to understand why and how it happened, let's look at the pieces of this story, starting from BlackBerry's perspective.
BlackBerry – Core Values and Design
BlackBerry's core belief was that efficiency and security matter the most.
RIM's senior executives believed, if the iPhone gained traction, it would be with consumers who cared more about internet entertainment than efficiency and security.
RIM's core business customers valued BlackBerry's secure and efficient communication systems. Offering mobile access to broader Internet content says Mr. Conlee, "was not a space where we parked our business."
BlackBerry could have leaned into what it did best while also giving people what they wanted.
But BlackBerry stuck to the rigid structure, as pointed out by Jobs, and failed to pivot from a hardware keyboard to a software keyboard.
iPhone's aftermath starts
In January 2007, Steve Jobs was on a stage waving the iPhone, downloading music, videos, and maps from the Internet.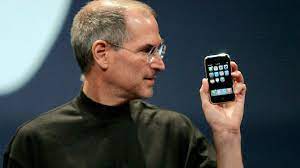 Mr. Lazaridis wondered how Apple did that.
Stanley Sigman, the Chief Executive Officer of Cingular Wireless now rebranded as AT&T announced a multi-year contract with Apple to sell iPhones which according to Mr. Lazaridis, would collapse the network.
While Mr. Lazaridis panicked, Mr. Balsillie, Co-CEO of RIM, was of the belief that they would be alright.
BlackBerry's Solution
More than 1 million iPhones were sold in its first three months during the summer of 2007.
RIM faced the iPhone threat by joining forces with Verizon Communications Inc.

Mr. Lazaridis's solution was Storm with a movable glass screen. Users could activate the phone's digital keyboard by pressing the screen down, replicating the click and tactile pleasure that made BlackBerry's physical keyboard so popular.
Verizon promised a marketing budget of $100 million to promote Storm in thousands of retail outlets but set a deadline of launching Storm by the spring of 2008.
The nine-month deadline wasn't realistic and RIM was able to start shipping Storm phones 15 months later in November 2008.
The product was flawed, with a slow browser, a clickable screen that didn't respond well in the corners, and also the device used to stop working. RIM's engineers introduced software upgrades to eliminate bugs.
"It was the best-selling initial product we ever had," says Mr. Lazaridis, with 1 million devices sold in the first two months. "We couldn't meet demand."
By 2009 almost all of the Storm phones shipped in 2008 needed replacing. Storm was a complete failure, and Mr. Stratton, Verizon's Chief Marketing Officer, wanted RIM to pay.
BlackBerry apparently called it Storm AK - the Apple Killer. (Well)
— iMore
Verizon wanted RIM to pay close to $500 million to cover the carrier's losses.
Mr. Balsillie offered Mr. Stratton an alternate solution; a range of concessions, including a free repair and upgrade program and a cache of complimentary BlackBerrys. All of this would cost RIM more than $100 million, which was not that big a toll on Blackberry's business.
What did the iPhone do right?
Apple changed the competitive landscape by shifting the purpose of smartphones from functionality to beauty.
Apple was a cult and RIM found it hard to digest that people were going for this latest mobile in the market which promised beauty over efficiency and security.
There was a point where the carrier, by changing the rules, forced all the other carriers to change the rules eventually. It allowed Apple to reset what the expectations were. Conservation didn't matter. Battery life didn't matter. The cost didn't matter. That's their genius.

— Mike Lazaridis, RIM's founder
BlackBerry fights back
Only Mr. Lazaridis didn't think of Storm as a failure. He perceived it as RIM's first crack at a new technology. It had a good camera, video-streaming capabilities, a great speaker, and a replaceable battery.
Mr. Lazaridis was convinced that BlackBerry should continue to improve Storm and went ahead with the BlackBerry phone's new model, Storm 2. It was in 2010 that U.S. carriers finally lost interest in it.
BlackBerry tried hard and eventually failed in the pursuit.
What seems like done by Apple, is actually done by BlackBerry.
Apple never aimed to compete but to innovate and create its own category
"Apple had a single developer platform. So, BlackBerry decided it needed many. Apple wouldn't allow Flash on the iPad. So, BlackBerry decided it had to have that too. Apple had a simple, full-screen interface. So, BlackBerry decided it had to use a webOS-style card-based interface."
— iMore
Apple was smart enough to innovate and outdated its own products while BlackBerry and other brands waited for a competitor.
Takeaway
BlackBerry failed to recognize the competitor and its style and responded blindly and hopelessly.
There lies a lesson for Apple as well. It may be the world's first and only $3 trillion company, but no one is safe in the world of tech with ever increasing innovation and competition.
BlackBerry could have made it had it responded well.
Being too stubborn to pivot and getting way too dependent on one feature, as BlackBerry did with its physical keyboard, is not the way to go.
Hope you liked this case study.
Drop your views in the comments section.
Until next time, don't forget to check out our other blogs and case studies.